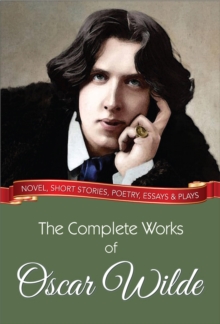 The Complete Works of Oscar Wilde
Download Immediately Available
This Complete Works of Oscar Wilde is a truly complete and authoritative single-volume edition of Oscar Wilde's works. It contains his only novel, The Portrait of Dorian Gray, as well as his plays, stories, poems, essays and letters, all in their most authoritative texts. For easier navigation, there are tables of contents for each section and one for the whole volume.
This ebook contains his complete works in a new, easy-to-read and easy-to-navigate format. With this beautiful Collectible Edition, you can enjoy Wildes enduring literary legacy again and again.
ABOUT THE AUTHOR:
Oscar Wilde was born in Dublin on 16 October 1854 to Sir William Wilde and his wife Jane. Oscars mother, Lady Jane Francesca Wilde, was a successful poet and journalist. Oscars father, Sir William Wilde, was a leading ear and eye surgeon, a renowned philanthropist and gifted writer, who wrote books on archaeology and folklore. Oscar had an elder brother, Willie, and a younger sister, Isola Francesca, who died at the early age of 10.
He was educated at Portora Royal School, Trinity College, Dublin, and Magdalen College, Oxford. While at Oxford, he became involved in the aesthetic movement and became an advocate for Art for Arts Sake. Whilst at Magdalen, he won the 1878 Newdigate Prize for his poem Ravenna.
After he graduated, he moved to Chelsea in London (1879) to establish a literary career. In 1881, he published his first collection of poetryPoems that received mixed reviews by critics. He worked as an art reviewer (1881), lectured in the United States and Canada (1882), and lived in Paris (1883). He also lectured in Britain and Ireland (1883 - 1884).
On May 29, 1884, Oscar married Constance Lloyd (died 1898), daughter of wealthy Queens Counsel Horace Lloyd. They had two sons, Cyril (1885) and Vyvyan (1886). To support his family, Oscar accepted a job as the editor of Womans World magazine, where he worked from 1887-1889.
In 1888, he published The Happy Prince and Other Tales, fairy-stories written for his two sons. His first and only novel, The Picture of Dorian Gray, was published in 1891 and received quite a negative response. This had much to do with the novels homoerotic overtones, which caused something of a sensation amongst Victorian critics. In 1891, Wilde began an affair with Lord Alfred Douglas, nicknamed Bosie, who became both the love of his life and his downfall. Wildes marriage ended in 1893.
Wildes greatest talent was for writing plays. His first successful play, Lady Windermeres Fan, opened in February 1892. He produced a string of extremely popular comedies including A Woman of No Importance (1893), An Ideal Husband (1895), and The Importance of Being Earnest (1895). These plays were all highly acclaimed and firmly established Oscar as a playwright.
He spent the rest of his life wandering Europe, staying with friends and living in cheap hotels. He died of cerebral meningitis on November 30, 1900, penniless, in a cheap Paris hotel.
Format: EPUB
Click here to see our help pages on reading this eBook on your chosen device. Please note that this eBook is incompatible with most Kindle eReaders. This item cannot be refunded once download has started.
Pages: 2650 pages
ISBN/EAN: 9788180320200
Publisher: GENERAL PRESS
Publication Date: 27/09/2016
Category: Classic fiction (pre c 1945)