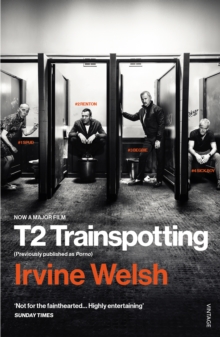 T2 Trainspotting
Download Immediately Available
Ten years on from Trainspotting, Simon 'Sick Boy' Williamson is back in Edinburgh after a long spell in London. Having failed spectacularly as a hustler, pimp, husband, father and businessman, Sick Boy taps into an opportunity, which to him represents one last throw of the dice. However, to realise his dream of directing and producing a pornographic movie, Sick Boy must team up with old pal and fellow exile Mark Renton and a motley crew that includes the city's favourite ex-aerated-water-salesman, 'Juice' Terry Lawson.
In the world of Porno, however, nothing is straightforward, as Sick Boy and Renton find out that they have unresolved issues to address, concerning the increasingly unhinged Frank Begbie, the troubled, drug-addled Spud, but, most of all, with each other.
Format: EPUB
Click here to see our help pages on reading this eBook on your chosen device. Please note that this eBook is incompatible with most Kindle eReaders. This item cannot be refunded once download has started.
Pages: 496 pages
ISBN/EAN: 9781407019901
Publisher: Random House
Publication Date: 27/05/2009